Our Story
Swaddle of Joy was created in 2020 by a Family and Lifestyle Influencer named Saba Khan, better known by her username Fictionally Flawless on Instagram and YouTube. Following the birth of her first child, she had a hard time keeping her baby swaddled. She purchased many different swaddles and tried countless different methods but nothing seemed to stop her child from fighting out of the swaddle. She then tried to let her baby sleep without being swaddled but quickly noticed her baby began taking shorter naps, waking himself up by hitting his own face or wailing his arms, triggering his startle reflex.

She saw some swaddles that would prevent him from fighting out, but quickly learned that their restrictive nature could negatively impact her baby's growth and development. She knew her baby did not want to take his hands out of the swaddle but rather just wanted space so he can move his arms around comfortably inside the swaddle. She needed something that would mimic the womb, a place where the baby felt secure but could move his arms and legs around. She began to look into buying a swaddle that would allow her baby to do so, but could not find anything on the market.

After speaking to family and friends about this relatable issue, she decided to stitch a swaddle for her baby herself. A swaddle that would allow her baby to be securely swaddled while giving him space to comfortably move his arms and legs around. After creating the perfect swaddle with sleeves, her family, friends and online audience began to ask questions about the swaddle and expressed much interest in obtaining one. She seized this opportunity to create her brand Swaddle Of Joy.

Shortly after the launch of Swaddle Of Joy, she received raving reviews of the quality and efficiency of her design. Many parents were requesting more products of such high-quality at affordable prices. Saba Khan took on this challenge and expanded Swaddle Of Joy into a baby product line that strives to provide parents and babies with high quality baby products at affordable prices.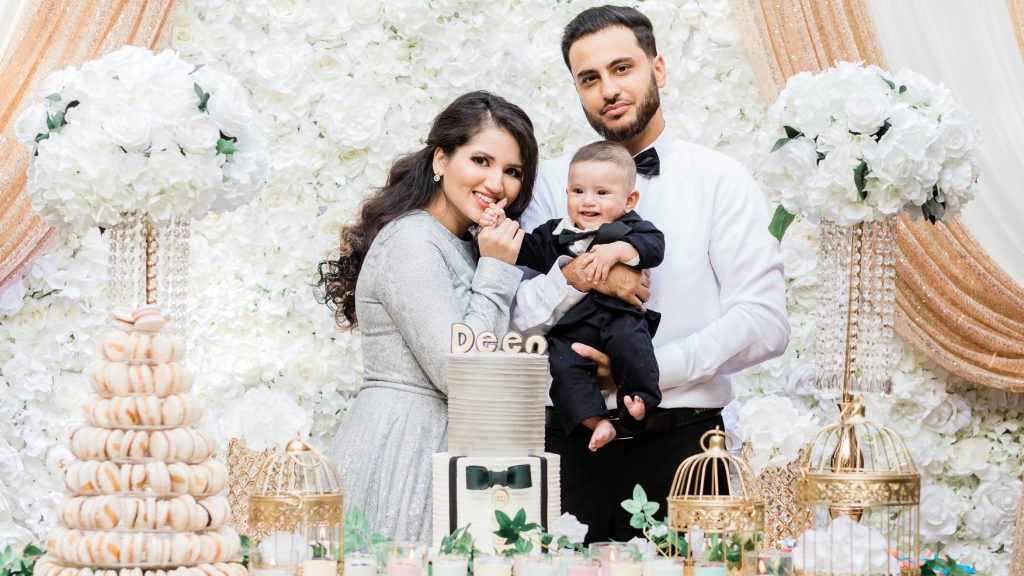 About Us
Our products are designed to provide your baby with maximum comfort and security. We strive to deliver parents with high-quality baby products at affordable prices that are soft on your baby's skin. Although we carry an impressive collection of high-quality baby products, our brand specializes in a unique design of baby swaddles with sleeves, called Swaddle of Joy Original. Our swaddles were designed to help your baby feel safe and secure as they adjust to life outside the womb. Our Swaddle Of Joy Original gives your baby comfort and security, allowing your baby to move its arms in the swaddle while preventing your baby from taking their arms out of the swaddle. We created a swaddle with sleeves!

Swaddling keeps your baby warm and snug until their internal thermostat builds up. It is known to help prevent your baby from flailing their arms and legs. Flailing arms and legs often trigger a startle reflex in your baby causing them to wake up. However, babies love to move their arms around while sleeping and often accidentally fight their hands out of their swaddle. However, if a swaddle is too restrictive, it could potentially have a negative impact on your baby's growth and development. This makes our Swaddle of Joy Original the perfect swaddle. Our Swaddle of Joy allows your baby to move their arms and legs inside the swaddle while preventing them from taking their arms out; mimicking the womb.

At Swaddle Of Joy, our mission is to provide parents with high quality baby products at affordable prices.

All our products are made with love and care. Our products give your babies comfort and are gentle on your baby's skin. We exceed customer expectations by delivering excellent products at affordable prices. Each of our products is reviewed by hand and processed to ensure that the quality is exceptional.

We're always adding new materials and designs to improve and ensure our customers have the best product and quality. We appreciate you joining us on this journey.

Give the gift of Swaddle Of Joy to your bundle of joy.

Worldwide Shipping

Best Quality

Best Offers

Secure Payments